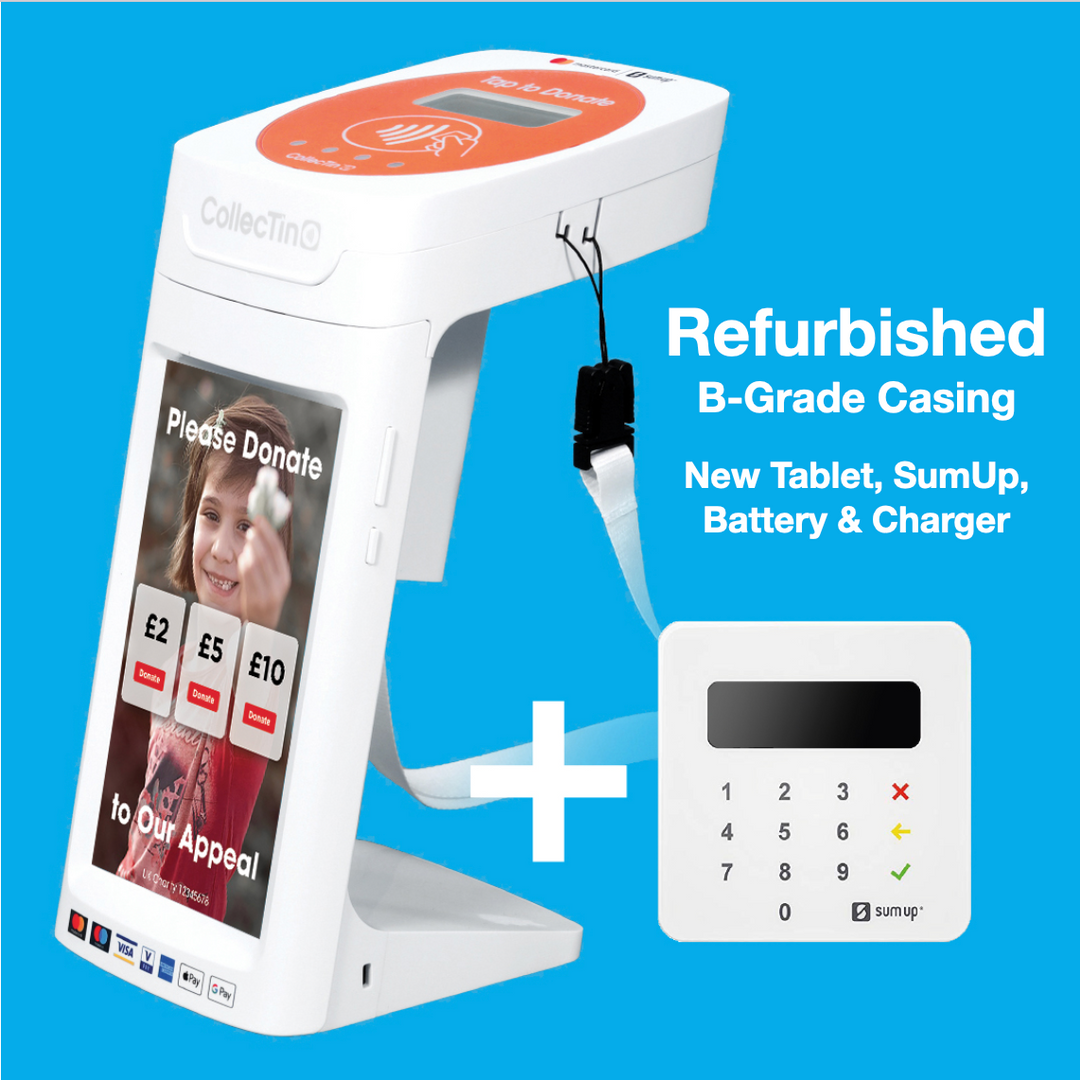 Refurbished CollecTin® More w B-Grade Casing with New Window; Refurbished Secure Mount & 3m cable
SPECIAL DEAL FOR DEMO ITEMS:
This CollecTin More is sold as refurbished stock at a reduced price. The plastic casing is B-Grade (visibly used with some surface scratches). The SumUp card reader, android tablet, battery and charger are all new. 
Secure Mount also refurbished, but good condition (photo not included).
The CollecTin® More is the simplest way to collect contactless donations or payments. 

What's Included
With the 
CollecTin® More you can
 accept donations by contactless card, mobile pay or chip & PIN. The touchscreen interface is fully customisable and responsive, allowing the donor to choose how much they want to give. The stand allows
for both handheld and static use, alongside the optional security lock kit to keep your donations safe on the counter. 
Each 
CollecTin® More can access the network through local WiFi or a SIM can be inserted for 4G connectivity. 
Each CollecTin® More also comes with
 a removable rechargeable battery, a lanyard, a SumUp reader (AIR1E205) and a charging cable. An unactivated SIM card is included, which you can choose to use if you wish.  It is a multi network card from Daisy Communications and 500 mb per month costs £42+VAT for 12 months.  We also now include a licensed copy of the Fully Kiosk App, which enables you to lockdown the CollecTin and prevent anyone changing settings or leaving the donation screen.
Pricing
In the UK there is a fee of 1.69% on each transaction.  See the SumUp website for fees in other countries.  For the standard app features, raising upto £1000 per year, there is no monthly fee, but if you raise larger amounts and/or use premium features such as images, video and Gift-aid there's a monthly fee (from £7.50+VAT) dependent on the annual amount raised.
This CollecTin More unit is compatible with SumUp Air1E205 readers - not AIR1E215 / AIR1E515.